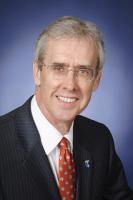 Judge Childers was elected as Circuit Court Judge in 1984, and re-elected in 1990, 1998, 2006 and 2014 and served as a Special Judge of the Tennessee Supreme Court Workers' Compensation Panel and the Tennessee Court of Appeals.  In addition, Judge Childers served in the following leadership positions:
Past President of the Tennessee Judicial Conference, 1999-2000.
Past President of the Tennessee Trial Judges Association, 1991-1995.
Past Chair of the American Bar Association Commission on Lawyer Assistance Programs (CoLAP) 2007-2011, Commission member from 2000-2014.
Served as Commissioner on the Tennessee Lawyers Assistance Program Commission (TLAP) from its inception in 1999 to 2009.
Charter member, past President (2004-06) and Master of the Bench of the Leo Bearman Sr. American Inn of Court, 1995 - present
Chair, Tennessee Judicial Conference Civil Pattern Jury Instruction Committee since 1991 (member since 1984)( Committee publishes the TENNESSEE PATTERN JURY INSTRUCTIONS - CIVIL ).
Past Chair, Tennessee Domestic Violence State Coordinating Council, 1999-2007 (member from 1998-2012).
Past Chair, Shelby County (TN) Domestic Violence Council, 1999-2000.
Elected twice by fellow state court judges as Presiding Judge of the Thirtieth Judicial District, 1989-90 and 1997-98.
Honors and Awards:
Recognized as Outstanding Judge of the Year by the Memphis Bar Association in 1986, 1999, and 2006, and by the MBA Family Law Section in 2005.
Recognized as Outstanding Judge of the Year by the Shelby County Deputy Sheriffs Association in 1990.
Received the Judge Wheatcraft Award from the Tennessee Coalition Against Domestic and Sexual Violence for outstanding service in combating domestic violence in 2001.
Received the Distinguished Alumnus Award from the University of Memphis in 2002.
Received the Justice Frank F. Drowota III Outstanding Judicial Service Award from the Tennessee Bar Association in 2012.
Received the Hazelden Foundation Excellence in Legal Community Leadership Award in 2012.
Named a Paul Harris Fellow by the Memphis Rotary Club in 2007.
He has been a faculty member at the National Judicial College at the University of Nevada-Reno, and the Tennessee Judicial Conference Judicial Academy, and has been a frequent lecturer and speaker at continuing legal education seminars (over 250) and before numerous schools, civic, church and business groups in Tennessee and throughout the nation.